Méribel belongs to one of the biggest ski region and offers the enjoyment of nature with a real ski vacation. It implies luxury and uniqueness of modern ski slopes, surrounded by nature. It is located at an altitude exceeding 1700m.
Méribel can be reached by the Chambery airport which is about a hundred kilometers from the tourist center, but apart from this one there are several airports that you can use to get to Méribel, from the airport in Geneva and Lyon, you can come to this place. Although Chambery is the closest, you could be trapped there by the bad weather, and that certainly wouldn't be good. You can also get to Méribel by a private helicopter or plane.
Alongside many reasons to visit Méribel the most important are amazing and gorgeous trails, that will exceed your expectations in every way. The resort on the west side of Val Thorens and La Tania on the east and Courchevel combined with Méribel form one of the world's largest ski areas, comprising about 600 km disordered trails that are there to make your vacation unforgettable. Satellite Resort is located at an altitude exceeding 1700m, it is Méribel-Mottaret valley. Due to the improvement of ski lifts through Méribel you can easily access other resorts effortlessly.
 It offers spa centers, large shopping malls, then a large snow surface that is suitable for every skier. You can visit the incredible observatory that will provide you with a beautiful view of the starry sky. It has a large selection of restaurants, even over 80, which provide international menus and a vide variety of foods and drinks to your delight. After dinner you can wear out your energy in a number of clubs and bars in Méribel. It has a large accommodation offer, but what's especially attractive are the chalets that will not distract you from the presence of nature.
In Méribel in 2015 World Cup Alpine Ski were held. For the purposes of Winter Olympics in 1992 it was built the Olympic Centre, which is now open every day for tourists. When you visit The Olympic Centre you will not want to go away because this place has a large number of activities that will enrich your vacation, such as: children's pool, fitness center, water slide, swimming pool, climbing wave, horse-sleigh tours, walking routes and snowmobiling.
Méribel is the perfect combination of tradition, elegance and modernity. This place is also specific for its good organization and activities for everyone. There is a comedy club and a English bar if you withdraw in your nostalgia. Many people come here not only for winter holidays, but even more summer vacation during which you can enjoy various activities like biking, golf and hiking. Prepare to go for a dream vacation for you and your loved ones, make the best memories with your family and friends, experience the wonder of nature, learn to ski like a professional and relax and enjoy every moment in Méribel.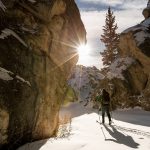 Skiing is an activity that has a history of about five millennia with origins from Scandinavia and possibly China. As for the modern alpine category it usually takes place in a ski resort or arranged track.